On this tour, there is no kayaking, only trekking. You can go to Yutsun Falls which is in the mountains.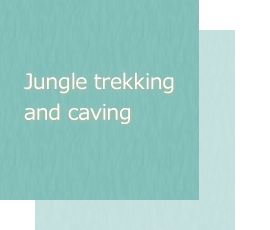 What a spectacular waterfall!
You need to trek for two hours each way. The waterfall is at the back of the jungle. It is just an adventure tour.
Caving!
We can visit a limestone cave after the trek to Yutsunfalls. It's exciting and dramatic.
Limited to the fall and winter seasons.This tour is limited to the fall and winter.
Why? In the summer season it is very hot and humid, so we can't enjoy trekking for a long time. Also, Yutsun falls does not have a waterfall basin, so you can't swim ther. But you can see a superb view from the top of the falls. Therefore we recommend this tour during the fall or winter.
Hiking
Advanced
Waterfall fun
Waterfall shower
Superb view
From 13 yrs
From Ishigaki Is OK
15,000 yen (13 – 60 years)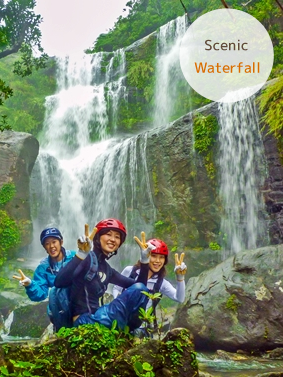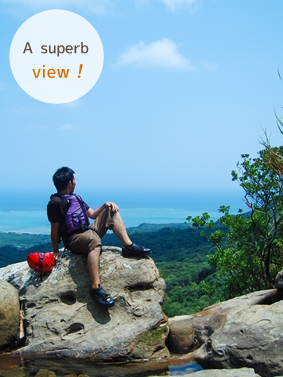 The next stage is caving, which is really exciting.
The best season for jungle trekking is from October to March. This is because the Summer on Iriomote Island is a bit too hot.
We will climb up to 250m, where there is a waterfall. We need to trek 2 hours each way, and we sometime need to trek across the river. We can see a superb view from the waterfall.
After trekking to Yutsun falls, we can go to a limestone cave. Our caving is easy and safe. The caving takes about 30 to 40 minutes, but it will feel like time is standing still.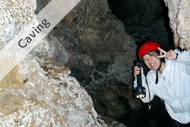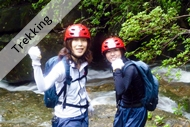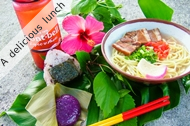 Availability
1/1 – 4/26, 9/1 – 12/31
Duration
approximately 7 hours
Costs
15,000 yen (13 – 60 years)
Included
Okinawan food lunch, equipment (shoes, backpack, waterproof bag, helmet, flashlight), guide fee
You need

towel, a change of clothes, water (at least 1 litre during the hot season), a hat, sunglasses, sunscreen, a waterproof bag

Appropriate clothes

Casual clothing is OK. Your clothes will get dirty and wet during the day tour.
It is cooler during the winter on Iriomote Island, and it is often windy, so a windbreaker is very useful.
We will take care of any large baggage you will not use during the tour.
Free use of security locker.

Start 9:30 am Finish 4:00 pm
From Ishigaki Is click here. You can come on a daytrip from Ishigaki Island.
Solo tours are possible, but the price in this case is 15,750 yen. In the case of two people it is the regular price.
Kazaguruma tours reserves the right to cancel or change the tour due to bad weather.
We call you at the day before of tour. You can check the weather and tour schedule.
Click here the way to get to Kazaguruma tours.
After you understand the details of this tour, you don't have worry about anything, you will start the tour.
You might see some wildlife. For example, a Kanmuriwashi, which is an eagle or an Iriomote wild cat. They are nationally protected species.
We start trekking.
You can see many kinds of wildlife and plants during the trek through the jungle.
Take care!
The river bed is very slippery. You should walk slowly there.
Shall I take a photo?
Your guide will drop you off at Uehara port or a hotel in the Uehara area. Don't forget your things. Thank you!!
It's exciting and dramatic!
We need to trek slowly in the limestone cave. You need to put on your helmet.
Don't worry about seeing frightening monsters. There are none here!
Yutsun falls is our goal. You can see a superb view from the falls!
Then we eat a delicious lunch.
While you are taking pictures and having a break, your guide will start to cook your lunch. It is Iriomote style.
Next up is caving!