You can enjoy hiking and river trekking during the Iriomote Summer.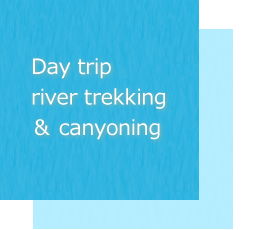 You will feel "cool" on Iriomote river.
Believe in your mind and body! This is a slightly more challenging course, and great exercise. You can stand under the waterfall and dive from the rocks.
We will go to two rivers, Omija river and Geta river.
Omija river has a lot of small waterfalls and a waterfall basin. Geta river has a fantastic waterfall. To go there, we need to trek on the river.
Free rental equipment
You can use our free rental equipment. (shoes, backpack, life vest, kayak) Beginners are welcome!
Hiking
Beginner OK
Waterfall fun
Superb view
Mangrove
From 10 yrs
From Ishigaki Is OK
12,000 yen (10 – 60 years)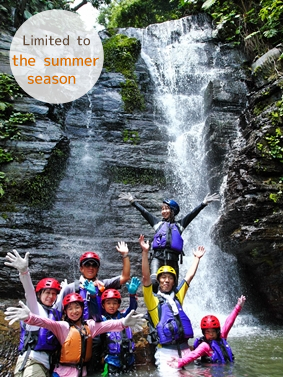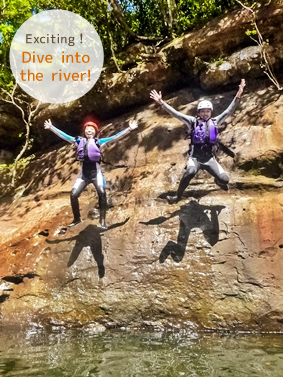 Limited to the summer season!
We tried to find a perfect trip for the summer season, because the summer on iriomote is very hot and humid. The sunshine is stronger than in Tokyo, but you can feel "cool" on this tour. Why?
Well, you will trek, swim, dive, on the river, so you need to get wet during a day. The reason is that it is necessary to get wet until the end of tour. You need to trek on a place that is quite slippery, so we will supply you with the right safety equipment. It is included in the tour fee.
We want to run this tour every day, but you will enjoy it best in the summer, because you will spend a lot of time in the water throughout the day. The hotter you feel, the more you will enjoy it.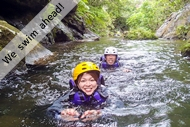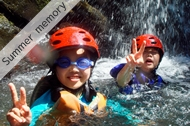 Availability
6/1 – 10/31
Duration
Approximately 5 hours
Costs
12,000 yen (10 – 60 years)
Included
Okinawan food lunch, equipment (shoes, backpack, waterproof bag, life vest), guide fee
You need

towel, a change of clothes, water (at least 1 litre during the hot season), a hat, sunglasses, sunscreen, a waterproof bag

Appropriate clothes

To protect from UV, insects and injury, we recommend long sleeves.
You can swim in the waterfall basin, so please bring a bathing suit.
There is no place to change during the tour, so please wear it under your clothes.
We will take care of any large baggage you will not use during the tour.
Free use of security locker.

Start 9:30 am Finish 3:00 pm
From Ishigaki Is click here. You can come on a daytrip from Ishigaki Island.
Solo tours are possible, but the price in this case is 33,000 yen. In the case of two people 16,500 yen per person. In the case of three people it is the regular price.
Kazaguruma tours reserves the right to cancel or change the tour due to bad weather
​We call you at the day before of tour. You can check the weather and tour schedule.
Click here the way to get to Kazaguruma tours.
After you understand the details of this tour, you don't have worry about anything, you will start the tour.
Don't worry about kayaking, even if you are a beginner.
If you are finished playing in the waterfall play, next is a delicious lunch.
When we move on, please be sure to take all of your belongings with you.
You will feel so happy and relaxed, but please be careful right until the end.
Your guide will drop you off at Uehara port or a hotel in the Uehara area. Don't forget your things. Thank you!!
We will guide to the best point
We can dive into the waterfall basin!
You will arrive at Omija river.
The next step is to move on to Omija river