You can spend a great day in popular recommended 2 places on Iriomote island.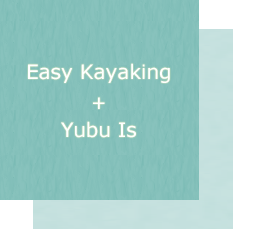 Mangroves as far as the eye can see!
While watching the mangrove, leisurely canoeing. Listen only to the sound of nature, let's enjoy luxurious time.
Full-scale jungle hiking! There is no hard mountain climb on this tour. But you can enjoy a very subtropical jungle hiking.
You may be able to see rare living things too.
You can visit Yubu Island too.
Yubu Island is famous for its water buffalo cart. If you ride on it, you can go from Iriomote Island to Yubu Island. There is a subtropical botanical garden on Yubu Island.
Kayaking
Hihking
Beginner OK
Waterfalls fun
Mangrove
For family
From 4 yrs
From Ishigaki Is OK
15,000 yen (13 – 70 years) / 14,000 yen (6 – 12 years) / 13,500 yen (5 years)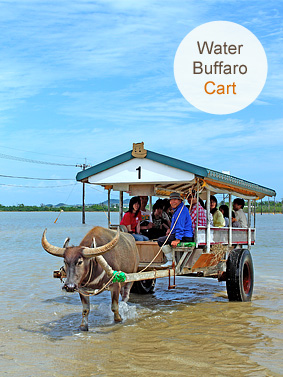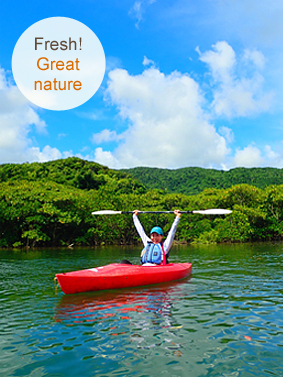 You will be able to spend quality time with this tour!
You can kayak slowly whilst looking at mangrove trees or taking photos. Kayaking takes about 40 minutes on the way. Then you will hike for 20 minutes. You can see many kinds of subtropical trees. In summer (from May to October), you can enjoy swimming in the waterfall basin.
You will go to Yubu Island after you finish outdoor activities. You can ride on a water buffalo cart on Yubu Island. When you ride on it, you can listen to some traditional Iriomote Island music. The driver will play a Sanshin, which is like a guitar. On Yubu Island, you can see many subtropical trees or flowers, and a lot of butterflies flit around the flowers.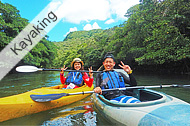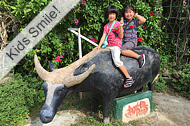 Availability
All year round
Duration
Approximately 7 hours
Cost
15,000 yen (13 – 70 years) / 14,000 yen (6 – 12 years) / 13,500 yen (5 years)
Included
Admission and a water buffalo cart fee (go and return), okinawan food lunch and snack, equipment (shoes, backpack, waterproof bag, life vest, kayak), guide fee
You need

Towel
A change of clothes *Please bring underwear too. You can change the clothes at our shop before go to Yubu Island.
Drinking water *At least 1 liter during the hot season. You can also buy it at our shop.
Hat
Sunscreen
Sunglasses *If you have one.
If you are wearing glasses or contact lenses, bring spares during the tour.

*If you bring a camera to the tour, please manage at your own risk.
*If you are not good at insects, please prepare an bug repellent spray.

Appropriate clothes

Casual clothing is OK. Your clothes will get dirty and wet during the tour.
To protect from UV, insects and injury, we recommend long sleeves.
You can swim in the waterfall basin on hot days, so please wear swimsuit under your clothes beforehand.
There is no place to change your clothes during the tour.
It is cooler during the winter on Iriomote Island, and it is often windy, so a windbreaker is very useful.

Baggage and valuables

We will take care of any large baggage you will not use during the tour.
Please be sure to put any valuables in free security locker.

You can register 2 or more participants.
Start 9:30 am Finish 4:30 pm *Rough schedule
If you join with your child, the tour may be delayed for about an hour.
You can come on a daytrip from Ishigaki Island. click here
Kazaguruma tours reserves the right to cancel or change the tour due to bad weather.
If you want to go to the top of Pinaisara falls, we recommend Pinasara falls Kayaking & Trekking course. *In this case, you can't go to Yubu Island.
The tours will go ahead in conditions of light rain, which is frequent, and will only be cancelled in conditions of heavy rain.
We call you at the day before of tour. You can check the weather and tour schedule.
Click here the way to get to Kazaguruma tours.
We will pick you up at the Uehara port or your accommodation.
We will orientation meeting before starting the tour at the our base.
After practicing how to use a paddle, get on the canoe floating in the river.
Don't worry about kayaking, even if you are a beginner. Iriomote's river has very weak currents, next to nothing. Kayaking is easy and enjoyable.
First, maybe you can't control your kayak, but it is not a problem. Take it easy!
You will gradually get the hang of kayaking.
When you will see the Pinaisara falls came into view, let's take some souvenir photos.
Let's hike to the Pinaisara falls. Watch your step, especially when it is raining.
In Iriomote jungle, there are many interesting trees and creatures.
Our guide will explain them to you during the hike.
After the break time, we will hike and kayak back to the start point.
After taking a shower and change clothes in our base, we will go to Yubu Island by our bus.
You can enjoy riding a water buffalo cart and walking on Yubu Island.
There are palm trees of countless and you can buy Okinawan souvenirs.
*When you go to Yubu Island, your guide will not accompany you and wait in the parking lot.
After enjoying Yubu Island sightseeing, we will give you a ride to Uehara port or your accommodation.
We have arrived at waterfall basin.
Please take a break while watching a beautiful Pinaisara falls.
If it is hot day like summer, you can into the waterfall basin. Your kids can enjoy it too, but we must wear a life vest while swimming in the basin.
While you are having a break, your guide will cook delicious lunch. It is Okinawan style noodle.