You can Kayak for a long time. You will go to Nara falls. Iriomote locals call this "The phantom falls".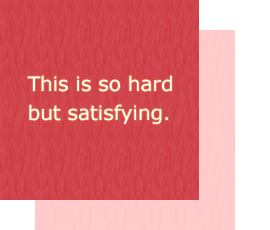 You can Kayak for a long time.
We will go to the Phantom Falls, which is in the interior of Iriomote island.
This course is the hardest, but most satisfying.
It is usually difficult to go to Nara falls, because this menu is the hardest in our tours. But Nara falls is the best unexplored region on Iriomote.
Tandem kayaks are very stable.
We use tandem kayaks, and they are very stable, so you can enjoy this tour. Take it easy!
This course is located in the unexplored region!
kayaking
trekking
Advanced tour
Waterfall fun
Waterfall bath
Mangrove
A superb view
Over 20 years old
Day trip from Ishigaki Is is OK
Fee (age group) : 15,000 yen (age 20-50)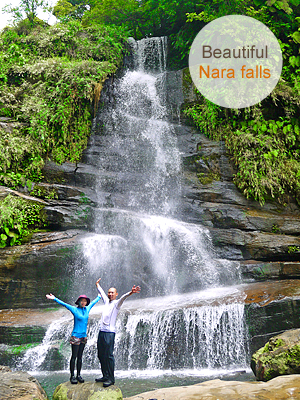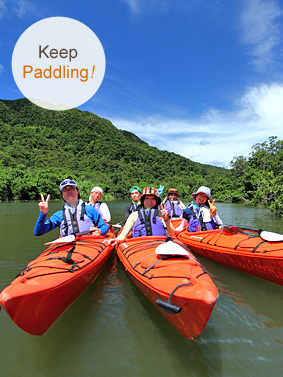 You can enjoy a long time and a long distance. You will get much excitement and a great, lasting impression!
One characteristic of Nara falls is that it has wide and deep basin below the waterfall. The starting point is Shirahama port. This is the end of the road on Iriomote island, so you can't go past Shirahama on foot. This menu is the hardest of our tours, but you can enjoy a long time and a long distance. After you will have arrived at the waterfall, it is possible to dive from the rocks and have an enjoyable time in the basin.
This tour is limited to 6 guests for safety reasons. Kayaking for 2 hours while observing the mangrove and trekking for 30 minutes. Recommended for powerful people.

 Japan Transocean Airline *Japanese only
 Photos of this tour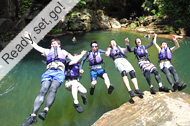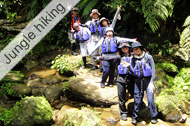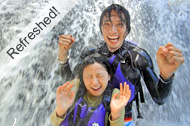 season
all year round *We will not hold 7/1-8/20.
duration
approximately 8 hours
Fee (age group)
15,000yen (age 20-50)
Included in the price
Lunch box,Japanese snacks, equipment(shoes, backpack, lifevest, kayak),guide fee
Items you need to bring with you

towel, a change of clothes, water(at least 1 liter during the hot season), hat, sunglasses, sunscreen, waterproof bag

Appropriate clothes

Casual clothing is ok ! ( your clothes will get dirty and wet during the day tour)
To protect from UV, insects and injury, we recommend long sleeves.
We will take care of any large baggage you will not use during the tour.
Free use of strong box

Start 8:00am Finish 5:00pm
From Isgaki Is →click here! Day trip from Ishigaki Is is OK! You can come on a daytrip from Ishigaki Island.
We recommend you stay at a hotel on Iriomote Island the night before, because these tours start earlier than the other tours.
You can register individually, but tours will only take place when there are more than 3 participants.We usually use tandem kayaks.
The tours will go ahead in conditions of light rain, which is frequent, and will only be cancelled in conditions of heavy rain.
We call you at the day before of tour. You can check the weather, tour schedule.
▼ About access



Free shuttle service from Uehara port or Hotels
Click here!! How to get to Kazaguruma tours
After you understand the details
Shirahama Port
Your guides are very kind and patient,
so don't worry about kayaking, even if you are a beginner.
First, maybe you can't control your kayak so well but don't worry.You will soon get the hang of it, and our object is so far away from Nakara river.
We will trek about 30 minutes to Nara falls. It is jungle trekking.
We will often see poisonous snakes, but don't worry; they are very quiet.
After arriving, we need to prepare the kayak and equipment.
Thank you!! Your guide will drop you off at Uehara port or a hotel in the Uehara area. Don't forget your things.
You will feel so happy and relaxed, but be careful not to turn your kayak over.
Maybe you will feel that tonight's dinner is more delicious than usual.
We arrive at Nara falls
Nara falls has a very wide waterfall basin, so there are so many things to enjoy there. It is too hard for many tourists to go to Nara falls because you have to kayak for two hours trek for 30 minutes. You can get a really valuable experience.