There is so much to do at the waterfall, and you can feel the subtropical hot air.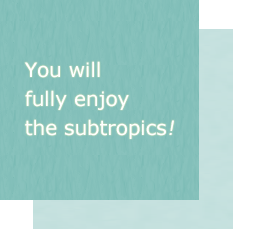 You can feel the subtropical hot air!
Kayak, River hiking and Waterfall fun. This course is a full course to enjoy the subtropics.
This is so unexplored exploration!
The starting point is "Shirahama port". Where the end of the road, and it is impossible walking any further.
A large selection of rental goods.
Required equipments are included in tour fee. Please feel free to join us.
Kayaking
Hiking
Advanced
Waterfall fun
Waterfall shower
Mangrove
From 13 yrs
From Ishigaki Is OK
15,000 yen (13 – 50 years)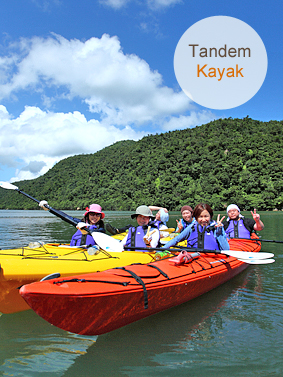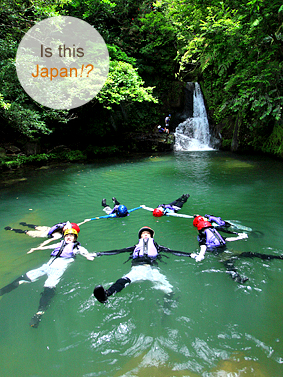 On Adanade river you can enjoy kayaking, river trekking and wild swimming a day.
This tour includes all the good points of waterfall fun of Iriomote Island.
We kayak for about 90 minutes, while observing the mangrove. From this point we put on a helmet and life jacket, and hike about 60 minutes on the river. It is like an expedition. You can dive and swim in the waterfall basin at Adanade.
Let's have lunch after our swim, and return. Recommended for powerful families.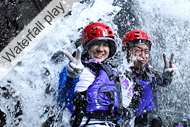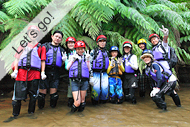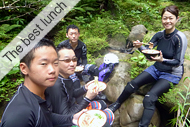 Availability
1/1 – 4/26, 5/7 – 6/30, 8/21 – 10/31
Duration
Approximately 8 hours *The required time changes depending on the tide.
Costs
15,000 yen (13 – 50 years)
Included
Okinawan food lunch and snack, equipment (shoes, backpack, waterproof bag, life vest, kayak), guide fee
You need

Towel
A change of clothes *Please bring underwear too.
Drinking water *At least 1.5 liter during the hot season. You can also buy it at our shop.
Hat
Sunscreen
Sunglasses
If you are wearing glasses or contact lenses, bring spares during the tour.

*If you bring a camera to the tour, please manage at your own risk.
*If you are not good at insects, please prepare an bug repellent spray.

Appropriate clothes

Casual clothing is OK. Your clothes will get dirty and wet during the tour.
To protect from UV, insects and injury, we recommend long sleeves.
It is a course to swim in the river and jump into the waterfall basin, so please wear swimsuit under your clothes beforehand.
There is no place to change your clothes during the tour.

Baggage and valuables

We will take care of any large baggage you will not use during the tour.
Please be sure to put any valuables in free security locker.

You can register individually, but tours will only take place when there are more than 2 participants.
Start 8:00 am Finish 4:00 pm *The required time changes depending on the tide.
You can come on a daytrip from Ishigaki Island. click here
We recommend you stay at a hotel on Iriomote Island the night before, because these tours start earlier than the other tours.
Kazaguruma tours reserves the right to cancel or change the tour due to bad weather.
We usually use tandem kayaks.
The tours will go ahead in conditions of light rain, which is frequent, and will only be cancelled in conditions of heavy rain.
We call you at the day before of tour. You can check the weather and tour schedule.
Click here the way to get to Kazaguruma tours.
We will pick you up at the Uehara port or your accommodation.
We will orientation meeting before starting the tour at the our base.
We will go to the Shirahama port by car. This place is the starting point of the tour.
After practicing how to use a paddle, get on the canoe floating in the sea.
Here we go!
First, maybe you can't control your kayak, but it is not a problem. Take it easy!
You will gradually get the hang of kayaking.
It will be kayaking about 90 minutes. Relax and go ahead while observing nature.
Let's hike to the Adanade falls. We will hike about 60 minutes to Adanade falls. It is river hiking!
Walk while enjoying. We will soon arrive at the waterfall.
When we arrive at the Shirahama port, we will clean up and return to the base.
After taking a shower and change clothes, we will give you a ride to Uehara port or your accommodation.
It's almost time finish the trip. Let's say goodbye to the Adanade falls.
On the way, you will go to tidal flats. There is a lot of wildlife.
Maybe you will feel that tonight's dinner is more delicious than usual.
We finally arrived at Adanade falls!
While you are taking pictures and having a break, your guide will start to cook your lunch. It is Iriomote style.
It is too hard for many tourists to go to Adanade falls, because it is necessary to kayak for 2 hours and trek 30 minutes. You can get a really valuable experience.