There are many tour shops on Iriomote Island.
Are you worried, such as "I don't know which shop is good!" "What is the difference between a windmill and other shops?"
So we introduces some of our shop features. If you have trouble choosing a kayak tour shop or want to know more about us, please check this page.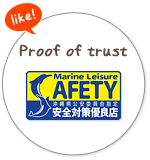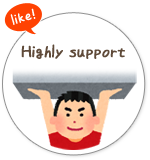 Highly support
We have guides who can help you in case of emergency.
In case of emergency, we will cooperate with the on-site guide.
In any emergency, it is important to act quickly.
We always try to make suggestions that are close to our customers.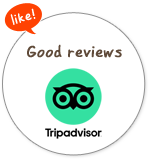 We have received many positive reviews
"What is the Kazaguruma like?" "What is the guide like?" "Is it popular?"
Our shop has been awarded the "Travelers Choice" for facilities that continue to receive high evaluations from TripAdvisor.
If you have trouble choosing a shop, please first check our reviews.
Iriomote Island Kayaks Kazaguruma
iriomotekayaks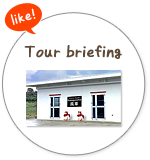 A polite briefing before the tour
The tour does not start suddenly. Please come to our shop first.
We do fitting of rental goods, tour explanation, health check, etc. before starting the tour.
We do not say customers to change clothes in the restroom at the port, and we do not lend out shoes that do not fit.
This is our style.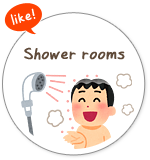 Shower rooms equipped
After enjoying the mother nature of Iriomote Island, please take a shower and refresh.
We have 5 shower rooms. Of course it is free.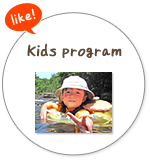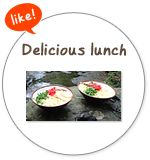 A popular lunch
In our shop, a guide will cook a lunch right in front of you. The menu is Okinawa style noodle.
So you can take a warm lunch even during the tour. *Offer only for courses including lunch.
The Pinasara falls Kayaking & Hiking course includes Okinawan snacks. Of course it's free.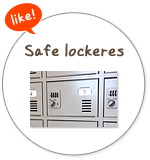 We guard your important things
We often get asked, "Do I have to carry my valuables?"
Please don't worry!
There are valuables locker in our shop, please use it. Of course it is free.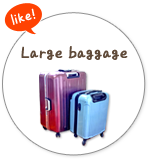 Large baggage OK
We will take care of your baggage, etc. not needed during the tour.
Of course it is free.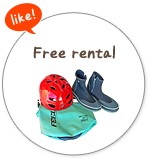 Free rental
All rental items such as shoes, backpacks and waterproof bags required for the tour are free.
Please come in clothes that do not care if you get wet or dirty.
And please bring a hat, towel, sunscreen and changing clothes.
About rental shoes