Nice to meet you! We are Kazaguruma.
Iriomotejima is the subtropical island where 90% are full of nature of the virgin forest. We suggest the tour that the person who was able to come for the first time can enjoy most.
 Promote a Safe and Trusted tours.
Our shop has been certified by the Okinawa Prefecture Public Safety Commission.
We promise you that you and your children can enjoy a tour safely. Therefore we always check our tools, that are paddles, kayaks, life-savers, shoes and baggage.
Your safety is a priority, so your guide is extremely watchful of changing weather during the tour.
If we go to mountain recesses where you cannot use phone, he will have a GPS phone.
We think our work is not only to entertain our guests, but the most important thing is that our guest can go home with good memories.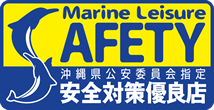 Member of the "Okinawa Marine Leisure Safety Bureau"
 Our staff
Our staff are there to help our guests enjoy their tours on Iriomote Island, so we have not only been studying about guiding and service, but also about the culture, history and wildlife of Iriomote Island.
We can speak English a little, and we have great hospitality. Please come on our tour, and we can enjoy Iriomote Island together.

 I'm from Tochigi.
When he was a student he visited Iriomote. It was his first Iriomote visit and for work as an internship. At that time he is greatly impressed by magnificent nature such as the sea and river and mountain. and he decided to become the field guide.
His hobby is a snorkel and is pleasure after work. He is friendly and kindness to everybody. Please ask anything to him. He might be able to help you with.
Message
I am aiming to become a good guid like who is loved by everyone. Let's enjoy Iriomote trip together. I am looking forward to being able to meet everyone.
●OMSB-Lifeguard
●NACS-J-Nature observation instructor
●Project Wet-Educator
●Project WILD-Educator
●Landscape technician-3rd grade
●Canyoning training by Lee from Abel Tasman Canyons-June 2017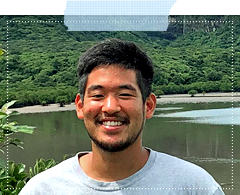 I'm from Kyoto.
20歳の頃から旅に出てアジア放浪生活やネパール居候生活、フィリピン駐在生活を経て西表島に辿り着いたのが2016年夏。一度島を離れるも、自然を愛する人と過ごした経験が忘れられずガイドを志し帰って来ました。
とにかく話し上手、聞き上手なので一日ずっと一緒でも笑いが絶えません。スノーボードが好きで冬は北国の山へこもるので、沖縄でのガイドは夏限定。西表島が一番輝く季節にお会いしましょう。
Message
人間好き楽しいもの好きな私が皆様の楽しい冒険をサポートします!
●OMSB水難救助員(沖縄マリンレジャーセイフティービューロー)

 CEO    I'm from Hiroshima.
My mission is that you can enjoy Japan. Therefore I study English every day. My joke or personality is not stereotypical Japanese, but is maybe unique and friendly for all people.
I look forward to seeing you on Iriomote Island.
Click here  I was featured in a newspaper (Japanese version only)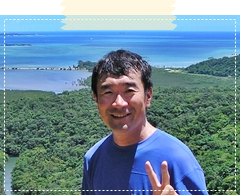 We are your best partner.
Welcome to Iriomote island.
Long ago, I only had two kayaks and I did not have a car too. Therefore we had to go to the start point by bike. Our tours were usually hard.
But now, I have some cars, an office, five shower rooms, and a lot of kayaks. We can receive many guests every day.
These things are "Thanks to our guests" Kazaguruma tours is not only a shop for Japanese. People of all nationalities are welcome.
Our staffs are not so good at English, but we have great hospitality. Your enjoyment is our pleasure and mission.

The company name
LLC. Kazaguruma
CEO
Shuichi Otani
Address
521 Uehara, Taketomi-cho, Yaeyama-gun, Okinawa 907-1541, Japan
TEL
090-8915-0931
FAX
0980-85-6441
Business contents
1. kayaking guide
2. trekking guide
Telephone support
10am – 6pm
Regular holiday
Operating 365 days a year
Promote a Safe and Trusted tours
Our shop has been certified by Okinawa Prefecture Public Safety Commission.