Iriomote Island "Kazaguruma tour"
Iriomotejima is the subtropical island where 90% are full of nature of the virgin forest. We suggest the tour that the person who was able to come for the first time can enjoy most.
 Promote a Safe and Trusted tours
Our shop has been certified by the Okinawa Prefecture Public Safety Commission
We promise you that you and your children can enjoy a tour safely. Therefore we always check our tools, that are paddles, kayaks, life-savers, shoes and baggage Your safety is a priority, so your guide is extremely watchful of changing weather during the tour. If we go to mountain recesses where you cannot use phone, he will have a GPS phone.We think our work is not only to entertain our guests, but the most important thing is that our guest can go home with good memories.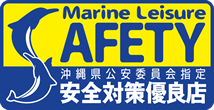 Member of the "Okinawa Marine Leisure Safety Bureau"

Okinawa Prefecture Public Safety
Commission designated No. 102
 Our staff
Our staff are there to help our guests enjoy their tours on Iriomote Island, so we have not only been studying about guiding and service, but also about the culture, history and wildlife of Iriomote Island. We can speak English a little, and we have great hospitality.Please come on our tour, and we can enjoy Iriomote Island together.
 I was born in Gifu prefecture.
カヌー歴6年。高校時代はインターハイ出場の経験もあるほどカヌー漬けの毎日を過ごしました。大人になった今はタイムを競うのではなく、西表島が誇る大自然の素晴らしさをのんびり伝えるカヌースタイルにチェンジ。西表島の旅が良い思い出となりますように、ベテランカヤッカーの私がサポートします!
 I was born in Tochigi prefecture.
沖縄本島自転車一周達成など沖縄の魅力にどっぷり浸かり、気づけばここ西表島へ流れ着きました。自他ともに認める顔の濃さはウチナーンチュ(沖縄の人)にも負けません!アウトドアフィールドでの出会いを大切にし、限られた時間の中でも精一杯、西表島の魅力をお伝えしてお客様を笑顔にします!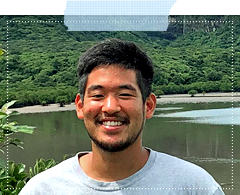 I was born in Tochigi prefecture.
専門学生時代にインターンで訪れた際、西表島の壮大な山、川、海に圧倒され、この素晴らしいフィールドでガイドになることを決断。インターンで来た時は、滞在7日目でイリオモテヤマネコに遭遇するという幸運の持ち主でもあります。西表島から、そしてお客様からも愛されるガイドを目指し、笑顔でみなさまをお待ちしております!

 CEO      I was born in Hiroshima prefecture.
My mission is that you can enjoy Japan. Therefore I study English every day. My joke or personality is not stereotypical Japanese, but is maybe unique and friendly for all people. I look forward to seeing you on Iriomote Island.
 Click here! I was featured in a newspaper (Japanese version only)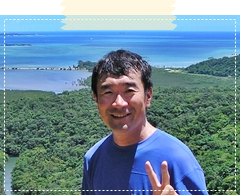 We are your best partner.
Welcome to Iriomote Is!
Introduce of Kazaguruma tour
Long ago ,I only had two kayaks. I did not have a car. Therefore we had to go to the start point by bike. Our tours were usually hard.
Now, I have some cars, an office, a shower room, and a lot of kayaks.Kazaguruma can receive many guests every day.
These things are "Thanks to our guests"Kazaguruma tours is not only a shop for Japanese. People of all nationalities are welcome.
Our staff are not so good at English, but we have great hospitality. Your enjoyment is our pleasure and mission.

会社名称
LLC. Kazaguruma
CEO
Shuichi Otani
Address
〒907-1541
870-60 Uehara Taketomi-cho Yaeyama-gun Okinawa prefecture Japan
TEL
0980-85-6441
FAX
0980-85-6477
Business contents
1. kayaking guide
2. trekking guide
Telephone support
10am-6pm
Regular holiday
Operating 365 days a year
Our shop has been certified by Okinawa Prefecture Public Safety Commission
Okinawa Prefecture Public Safety Commission designated the No. 102
Promote a Safe and Trusted tours